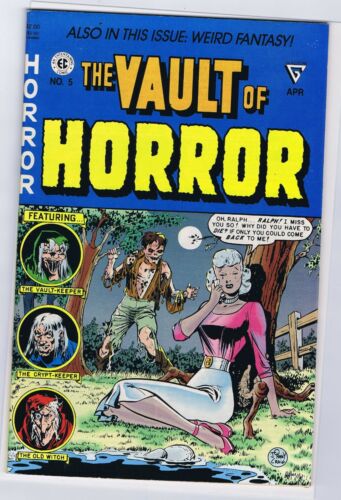 I don't know why I'm drawn to anthology comics, especially those with three or four stories in them. Maybe it's the fact that they, by and large, aren't published these days with any regularity beyond a few specials or tribute comics. So they have a certain old-school newsstand charm to them.
I've got three that I found during the FCBD quarter bin extravaganza: two issues of Boris Karloff Tales of Mystery and The Vault of Horror #5.
The Boris Karloff books are published by Gold Key and are from the mid-1970s. Frankly, they're more of a curiosity to me than anything and even though I just read them maybe a week or two ago, I barely remember what the stories are. The covers are pretty sweet, though, and the ads are … interesting (ads for patches and posters some of which look like they feature characters in Blackface? Uh …). For a quarter each, they were fine, I guess, although since I already own the Showcase edition of DC's Ghosts, I don't think I'm going to be clamoring for any more of these.
The Vault of Horror on the other hand? This was well worth the money spent. The book itself is from a line of Gladstone Comics' reprints of EC horror from the pre-Code 1950s. I remember these books being on the stands back then but the history of comics was unfamiliar to me, so I thought that they were comics being published to capitalize on the popularity of Tales from the Crypt on HBO.
Okay, they probably were, but the house ads and lettercolumns also point to this being a pretty special reprint series that also would be collected into very nice bookshelf editions of the original EC Comics' series (and expensive ones at that, even for the time). To my knowledge, this was also the first time that many of those had been collected in any form of reprint, at least since the creation of the Comics Code Authority led to the company's downfall.
The stories are really great. There's twist endings that would make Poe, O. Henry, or Rod Serling proud. There's some top-notch art, and for an independent publisher, Gladstone puts out a quality reprint. Included inside what was a $2.00 book for the time was one full issue of The Vault of Horror and an issue of Weird Fantasy. The latter is strange sci-fi stuff that I enjoyed for its 1950s-ness. But The Vault of Horror is genuinely creepy in places and a whole lot of fun. I'll have to see if I see any of these reprint issues or even a trade or two in the discount bins [side note: who has the rights to EC Comics' line and are they reprinting them in any way?].
Keep, Sell, Donate, or Trash?
Keep The Vault of Horror; Donate Boris Karloff