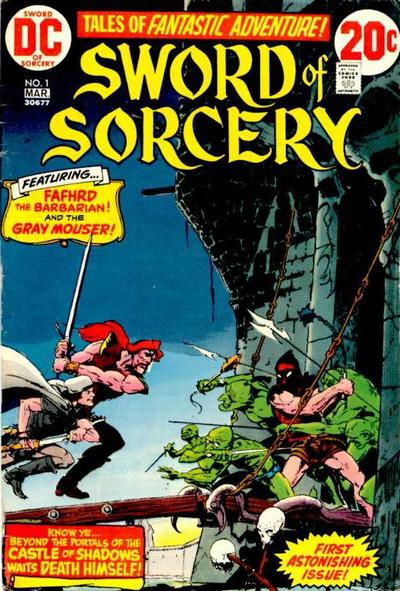 I'm going to close out my #FantasyComicsMonth comics with this one, a book that DC Comics published in 1973 and which bears one of the names of the genre. It's not an "origin of the genre" comic, especially because sword and sorcery books have been around for quite a long time, but I do think it's worth putting right into DC's contributions to the genre.
Written by Denny O'Neil with art by Howard Chaykin (some of his earliest work, IIRC), the book tells the story of "The Greatest Swordsmen of All … Fafhard the Barbarian & The Gray Mouser".
Who?
According to a text piece that takes up this issue's lettercolumn, Denny explains that the two are the creation of Fritz Leiber, a writer who at that point had been chronicling the adventures of the duo in prose for 35 years. A quick Wikipedia search shows that they were characters in Leiber's short stories since the 1930s and when this particular comic rolled around, their adventures had been collected in books during the past few years. So if those had sold well enough, some readers might have been familiar with them.
But it also seems like DC is trying to find their own Conan the Barbarian, who had been going strong for almost three years over at Marvel. These two are a little more Robin Hood and Little John than Conan because they have a bit of swashbuckler in them.
As far as a comic story is concerned, it's fun. There's a lot of various tomfoolery that the two of them get up to, and the whole story is beautifully illustrated. But … I dunno, it's not like I'm going to come back to this over and over again or go seek out the rest of the series in the bins like I might do for some Conan books (although if it's on digital …? I probably would read it). It's the very definition of a good comic that was worth the money I paid for it (about $1) but doesn't wind up on the top of my pile. Which is a terribly backhanded compliment to those two outstanding creators.
Really, though. If you find this in a very cheap bin (a buck, fifty cents, a quarter, etc.), then go ahead and grab it because you'll have a good time.
Keep, sell, donate, or trash?
Donate.