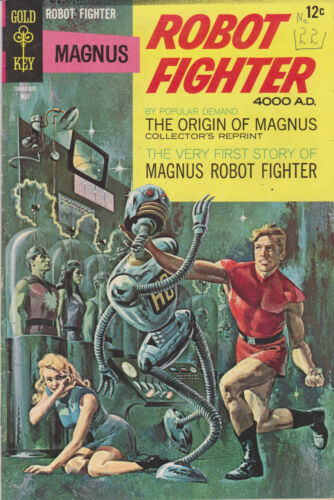 Sometimes, the quarter bin sales are really good because you can get random old stuff in fair condition that you might not have otherwise sought out. Case in point are these three books. I recall Magnus Robot Fighter being one of Valiant Comics' books back in the Nineties, right along with Turok, and at one point, I did learn that they were acquired properties as opposed to some of the company's original characters. While I've read a couple of issues of Turok, I think that my only exposure to Magnus was via the Deathmate crossover with Image (and even then, I barely, if at all remember anything about that series even though it's sitting on my shelf in the basement). So when these three issues popped up in a sale last year, I grabbed them.
Now, I was going in blind as far as who this character was. I know that he was a science fiction character and fought robots. Yeah, not exactly a hard thing to discover. Anyway, one of the issues–#22–was a reprint of his origin story, which was told in the series' very first issue. That story is that all of the household robots (and robots that served other functions in that futuristic society of 4000 A.D.) decided to rise up and take over society. Magnus becomes the hero that society needs.
The other stories were just part of the ongoing adventures of the character, and within reading half a page of each, you understood the concept. And honestly, they were pretty enjoyable. This is maybe the third or fourth title published by Gold Key that I've read in recent years and Magnus is one of the better ones, feeling like a really solid "this will keep the kids quiet in the car/in the waiting room" type of buy and if it gets thrown away, don't worry about it.
Keep, Sell, Donate, or Trash?
Donate.