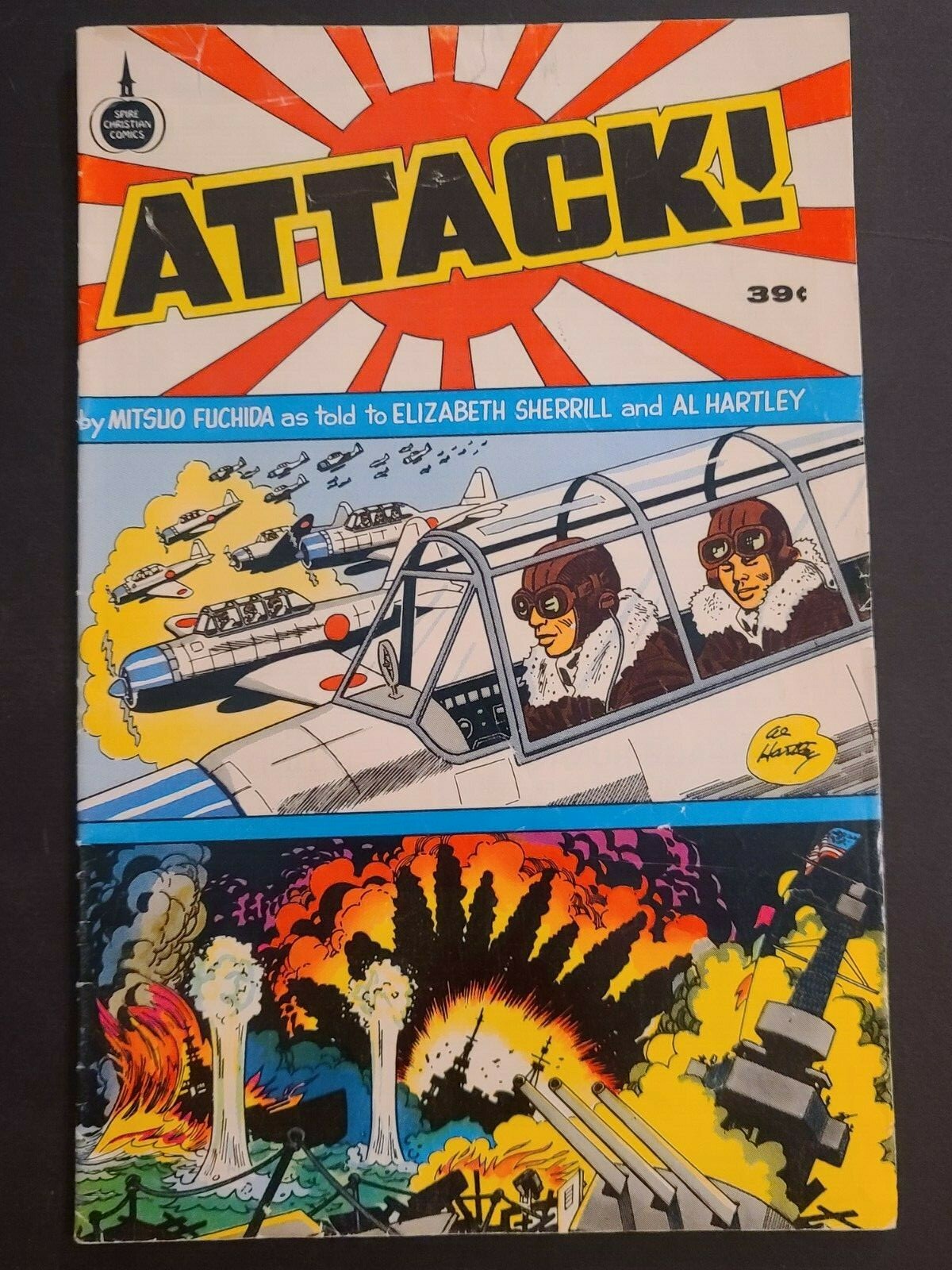 Even though I have more war comics to read and eventually review for this blog, I decided to close out #WarComicsMonth with this comic, which I found in a quarter bin back in May and whose cover was intriguing enough that I felt compelled to pick up.
Published in 1975 by Spire Christian Comics, "Attack!" is the story of Mitsuo Fuchida as told to Elizabeth Sherril and Al Hartley. It's a story of World War II from the point of view of a Japanese soldier, which isn't something I've seen a lot of in the past month. In fact, I don't know if I have ever read a story about Pearl Harbor from the point of view of the Japanese.
And that's what we get. Fuchida was a fighter pilot for Japan on December 7, 1941 and as the comic tells us, this was the fulfillment of a lifelong dream. He'd been a child during the Russo-Japanese War of the early 1900s and grew up wanting to be in the Japanese Navy. Then, once he spied an airplane he knew that they would be the future of warfare. So, he became one of the premier pilots int he Japanese Air Force.
However, after the U.S. victory at Midway, Fuchida became increasingly disillusioned with the Japanese leadership and then witnesses the horrors–both in the moment and the aftermath–of Hiroshima and Nagasaki. In post-war Japan as the nation struggled to rebuild, he found himself adrift until he read a story called "I was a Prisoner of War" by Jacob Deshazer who got through his ordeal with help from God and The Bible and …
… well come on, you don't get a publication from a publisher named Spire Christian Comics without an overt message about God. So this goes from being a war comic to an episode of Davey and Goliath. And while I knew it was going to happen, I audibly groaned when I hit that point.
I mean, my relationship with Christianity, as it stands, is pretty nonexistent, and I've always found the whole "SUPRISE! IT'S JESUS!" approach to be a bit smarmy. Although I am curious about the Spire Christian book "The Cross and the Switchblade."
Anyway, the book is fairly well written and illustrated, and it only cost me a quarter, but in the end it's really only a curiosity at best.
Keep, Sell, Donate, or Trash?
Trash.