Because of a DC grab bag at my LCS and the store's "Fresh Fridays" promotion where they put out some recent big-deal purchases every Friday, I wound up with these two Batman comics, both of which are Bronze Age goodies. And being that I'm a little too lazy to write multiple reviews here, I've decided to fold them into one blog entry.
Before I begin, I should say that even though my Batman phase was the early 1990s, I have a real soft spot for Bronze Age Batman. I think that's probably because my first encounters with the Dark Knight were during the Super Friends years, and my all-time favorite storyline is the "Strange Apparitions" stuff that I first read in the Greatest Batman Stories Ever Told and Greatest Joker Stories Ever Told trade paperbacks. So if I can find some 1970s or early 1980s Batman books on the cheap, I'll grab them because they usually are solid entertainment.
Are these? Well, let's find out.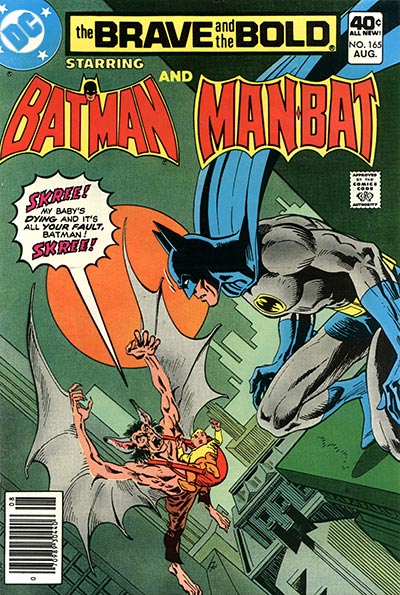 The Brave and the Bold #165
So it's #HorrorComicsMonth and while Batman's not exactly a horror comic, there's plenty of his adventures that are horror adjacent. I think that as a villain, Man-Bat would have qualified in the regard.
To be fair, he's not my favorite Batman character. But I'm willing to give anything a shot. The storyline here has to do with Man-Bat being set up to do the work of mobsters so that he can get some sort of cure for his daughter. Written by Martin Pasko, it's less of a team-up story and more of a Batman story where Man-Bat appears. Still it's one of the more intriguing stories I've read, mostly because Man-Bat isn't there very much.
Plus, Don Newton is doing the artwork and … well, if there's anyone who is an underrated Batman artist, it has to be Don Newton. It's absolutely gorgeous and that's pretty much the reason that I'll probably read this again.
Keep, Sell, Donate, or Trash?
Keep.
DC Special: Batman Spectacular
I think there's an official designation for this, but I'm too lazy to look it up. I saw it for $4.99 and it wasn't something I was used to seeing in the bins. A 68-page 1970s Batman book with a Marshall Rogers cover for $4.99? I couldn't pass it up.
There are three stories in here. The first is "Hang the Batman", written by David V. Reed with art by Mike Nasser, whose artwork I loved on the Kobra story in the Super-Hero Spectacular I own. It's a great mystery with stunning visuals that involves a murder and a mystery writer in a way that is fun as hell and ends with Batman eating chili.
"I Now Pronounce You Batman and Wife" is a Denny O'Neil-penned story with art by Michael Golden and Dick Giordano that involves a possible marriage between Bruce Wayne and Talia. I don't think you need to say much more than that. 1970s Michael Golden Batman? It's freaking stunning.
And finally, there's a story I have read before: "Death Strikes at Midnight and Three" by Denny O'Neil and Marshall Rogers. This is rightfully in The Greatest Batman Stories Ever Told. It's been a few years since I read it and it's still amazing. In fact, I'm pretty excited that I now own this book in its original publication.
Keep, Sell, Donate, or Trash?
Keep.